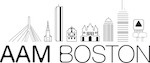 2019 Conference Scholarships Available
Twenty-five scholarships are available for next summer's Boston Conference, the largest number ever to be awarded. Each scholarship will be up to $575 to cover the cost of early registration. These are awarded at the discretion of the president. Preference will given to first-time attendees and to students. The amount of each individual scholarship will depend on the number of applications received. The majority of funding is made possible by the surplus from the 2017 Winchester Conference. It may also be possible to secure alternative accommodation for scholarship recipients.
To apply, please send a letter or e-mail of application, stating why you think you qualify for a scholarship to:
Dr. Paul Ellison (pellison@anglicanmusicians.org)
Church of the Advent
162 Hickory Street
San Francisco, CA 94102
The deadline for applications is April 1, 2019. While applications will continue to be accepted after this date, applicants are far more likely to be successful if they apply before this deadline.
All applications will be kept confidential.