Isaac Drewes named Gerre Hancock Intern in Church Music 2019–2020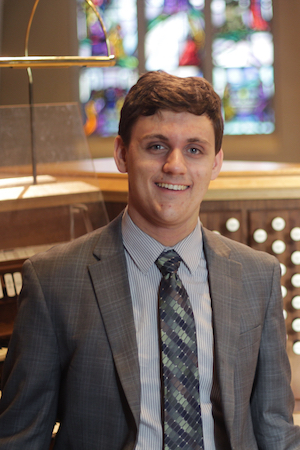 The AAM Gerre Hancock Internship Committee is pleased to announce that Saint James Cathedral, Chicago, will host the 2019-20 Internship; and Isaac Drewes will be the Intern.
St. James Cathedral is a vibrant and historic parish in the heart of downtown Chicago. It has been the musical home to several luminaries of church music, including Dudley Buck, Peter Lutkin, Clarence Dickinson, and Leo Sowerby. Today, the parish is served by the semi-professional Cathedral Choir and the newly-established Cathedral Choir School, a chorister program for boys and girls. St. James serves as a musical hub for the city, hosting dozens of concerts each year. The Cathedral also hosts the downtown campus of the Music Institute of Chicago, a community music school that teaches thousands of young musicians across the city. A renewed emphasis on music and the establishment of the chorister program has sparked a recent period of dramatic growth and revival, making this year a very exciting time to host the AAM Gerre Hancock Intern. Stephen Buzard is the Director of Music.
Isaac Drewes is a masters candidate at Eastman School of Music, where he studies organ with Prof. David Higgs, and holds the George Utech Hymnody Fellowship. He is Organist and Choir Director at Penfield United Methodist Church, and sings in the Christ Church Schola Cantorum. A graduate of St. Olaf College, he completed his undergraduate studies with with Dr. Catherine Rodland, and held the position of Organ Scholar at St. Louis, King of France Catholic Church in St. Paul, MN.
Isaac's performances have been heard around United States and Canada, including at St. Joseph's Oratory in Montréal, Old West Church in Boston, and St. Mark's Cathedral in Seattle. He earned first prize in the 2018 Lynnwood Farnam Competition, and was a semi-finalist in the 2018 National Young Artists Competition in Organ Performance. In 2016 and 2017, he performed for Organ Historical Society conventions held in Philadelphia and the Twin Cities respectively. He is also the winner of the 2016 Twin Cities AGO Student Competition, and a recipient of the Pogorzelski-Yankee and Paul Manz Scholarships. When not at the organ bench, Isaac enjoys bicycling and hiking in the mountains of the Pacific Northwest.