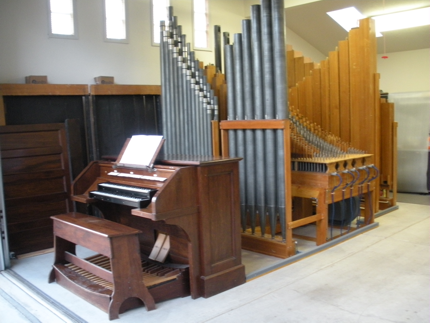 Wicks Organ (c. 1934) for sale
Note from AAM: An AAM member forwarded this announcement and document to the Communications Office in case there might be AAM members who are interested. We provide this information as a service to our members without endorsement.
Note from Richard Reiff: This article delineates the organ's history and details of my restoration process. The organ is fully functional and would be an excellent choice for any chapel or modest sized sanctuary. Please let me know if you are aware of any possibilities for placement of this fine instrument.
Restoration of Wicks Op. 1210 Pipe Organ, circa 1934
by Richard Reiff
The Wicks Organ Company of Highland, Illinois delivered organ Op. 1210 to the "Strong Mortuary" at 211 N. Second Street in Albuquerque, NM on June 22, 1934. It is believed that this organ was subsequently moved to the newly-constructed "Strong-Thorne Mortuary" on Coal Avenue several years later. At some point in time, the organ was removed from that mortuary, was moved at least once, and was ultimately installed in the "Sierra Vista Bible Church" (no longer in existence) which was located at the northwest corner of Wyoming and Paseo del Norte in Albuquerque. In January of 1995 I purchased the organ (which had been poorly installed in the attic of that church with the console on the ground floor) carefully disassembled it, packed, and moved it to my residence in Cedar Crest, NM. The entire organ (except for the console) had to be removed through a small "pull-down" attic-staircase in the church.
The organ remained in storage until January 2012, at which time I (being then retired) could fully engage in the restoration project which took approximately 2,100 hours to complete. Fortunately John Sperling, the retired tonal director of the Wicks Organ Company was still employed there in a consulting capacity and was gracious in accepting phone calls whenever I had questions regarding the instrument. In addition, replacement parts were readily available from Wicks and during two visits to the factory, I was allowed to make copies of correspondence and documentation pertinent to Op. 1210 which were still on file at Wicks.
The restoration of the pipe organ was accomplished in my 525 square-foot studio/workshop in Cedar Crest. The organ footprint is 10 feet wide by 18 feet long including the console, the main wind chest, four satellite wind chests, wind conductors (all wooden), blower, bellows, cabling (contained in covered cable troughs), power supply/controller, and console. The console has two upper manuals (Great and Swell), lower full pedal, crescendo, and swell control pedals. (The swell shutters are operational and have now been set in place to demonstrate functionality.)
The main restoration tasks involved:
1) "Connectorizing" the main wind chest and fabrication of new cables between the console and chests
2) Fabrication and installation of covered cable troughs
3) Fabrication of several new air conductors (all wooden, like original)
4) Replacement of defective electrical solenoids
5) Re-leather multiple sub-assemblies
6) Re-veneer of all main wind chest top-boards
7) Re-felt tuning plugs for 24 bass pipes
8) Manufacture new power controller assembly
9) Inspection of all pipes and repair as required
10) Inspection/cleaning/repair of console relay and keyboard contacts
11) Fabrication of Chimes Rack
12) Releather of secondary chimes bellows
The resources (438 pipes + Degan chimes) included in the organ are:
1) Melodia 8′ (73 pipes)
2) Salicional 8′ (73 pipes)
3) Diapason 8′ (73 pipes)
4) Dulciana 8′ (61 pipes)
5) Vox Celeste 4′ (49 pipes)
6) Flute 8′ (85 pipes)
7) Bourdon 16′(12 pipes)
8) Lieblich/Gedeckt 16′ (12 pipes)
9) Degan Chimes (20)
This pipe organ is a "unified" instrument, which implies a lot of resource "borrowing" to facilitate the various stops that are available. There are eight (8) stop tabs assigned to the Pedal, fifteen (15) stop tabs assigned to the Swell manual, and thirteen (13) stop tabs assigned to the Great manual. The stop list is included as an attachment to this document for reference.
The restoration project was quite challenging since a lot of "reverse engineering" had to be applied. Since it was designed in 1934, the complex wiring/logic diagrams were not available, but fortunately my professional background in electrical engineering and logic design was useful—to say the least.
This instrument is small by most standards but is quite suitable for a small sanctuary or for a large private residence.