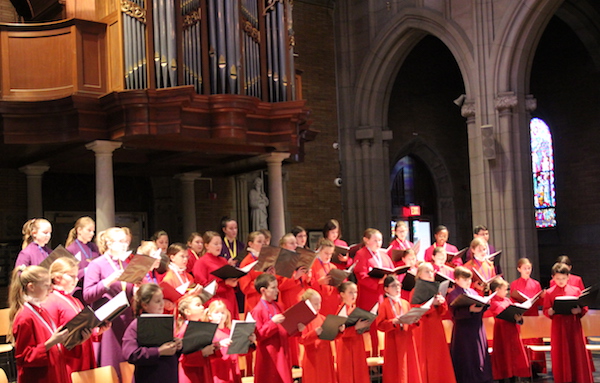 Treblefest 2019 at Trinity Cathedral, Cleveland
On Saturday, March 2, 2019, 45 choristers gathered at Trinity Cathedral, Cleveland, for the annual Treblefest. Boys and girls from four choirs participated this year: St. Paul's, Cleveland Heights, OH (Dr. Richard Nelson, director); the Cathedral of St. Paul, Erie, PA (Sharon Downey, director); St. Mark's, Columbus, OH (Dr. Matthew Bester, director); and St. Paul's, Akron, OH (Daniel Fortune, director). Rehearsals began at 9 a.m. culminating with Evensong at 3 p.m. In between all the singing fun, everyone enjoyed some especially tasty cake; our traditional, must-have tater-tots; and even some other delicious, healthier food!
Sarah E. A. MacDonald, Director of the Ely Cathedral Girls' Choir, and Fellow and Director of Music at Selwyn College, Cambridge, led the day's music-making with tremendous energy, engagement, and humor. Her indefatigable efforts raised the musical standard of the already well-prepared choristers to even further heights, achieving musical nuances that are typically difficult to realize in just a few hours' rehearsal time, especially when combining choirs.
The choristers sang Felix Mendelssohn's "I will sing of thy great mercy, O Lord" as an Introit; plainsong responses; Psalm 23 to a chant by C. Hylton Stewart; a challenging setting of the Magnificat & Nunc dimittis by Simon Lole, St. David's Service; and the anthem was "Andrew's Song", a lovely setting of George Herbert's text, "Love bade me welcome," which was arranged by Sarah MacDonald on a tune by John Penny.
The Evensong was played by Mario Buchanan (of Christ Church, Hudson, OH) and The Rt. Rev. Mark Hollingsworth, bishop of Ohio, was the officiant.
Treblefest, now in its 9th year, was conceived of by The Rt. Rev. Alan Gates when he was rector of St. Paul's, Cleveland Heights. Dr. Nelson took on the challenge, turning it into the event we know today. His continued leadership, along with the generous funding by the Petrey Family Foundation, makes the annual event possible.