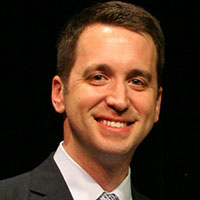 Jason Abel
Jason Abel is organist and choirmaster at historic Christ Church in Alexandria, Virginia. He has held this post since 2005. Prior positions were at the Church of the Nativity in Huntsville, Alabama, and Church of the Incarnation in Dallas, Texas. In his current role, he directs two children's choirs, one adult choir, and serves as principal organist. In addition to his duties at Christ Church, he serves as assistant chapel musician at Virginia Theological Seminary.
Jason holds the Master of Sacred Music degree cum laude from Southern Methodist University and a Bachelor of Arts degree cum dignitate in musica from the University of the South in Sewanee, Tennessee. He has studied organ with Robbe Delcamp, George Baker, and Larry Palmer, and conducting with David R. Davidson.
Jason was chair of exhibits for the 2010 American Guild of Organists National Convention and was on the executive committee of the 2014 AAM Conference, both held in Washington D.C. Additionally, he has served on the Diocese of Virginia Liturgy and Music Commission for many years.