The Rev. Canon Victoria R. Sirota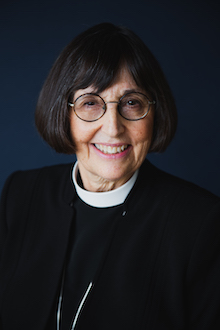 Victoria R. Sirota, Episcopal priest, organist, lecturer and author, holds degrees from Oberlin Conservatory of Music, Boston University and Harvard Divinity School. She has given organ recitals in the United States and Europe, and has held positions as organist and choir director as well as academic posts at Yale Divinity School and Institute of Sacred Music, The Ecumenical Institute of Theology at St. Mary's Seminary and University, and Boston University. Former National Chaplain for the American Guild of Organists, Chair of the Professional Concerns Committee for the Association of Anglican Musicians, and Coordinator of the 1990 National AGO Convention in Boston, she is the author of articles, reviews and texts for hymns, cantatas and song cycles. Collaborations with her husband, composer Robert Sirota, include "O Blessed Holy Trinity" for choir and organ commissioned by Trinity Episcopal Church, Indianapolis, and "Job Fragments" for baritone, piano and cello (2019), "A Call for the Battle to Cease" (2017) for piano, orchestra and choir and "Prelude and Spiritual for Mother Emanuel" for soprano, chorus, piano and strings premiered at the Concert for Peace at Saint John the Divine (2015). She is recorded on Northeastern, Gasparo and Albany Records and her book Preaching to the Choir: Claiming the Role of Sacred Musician is available from Church Publishing. Honors include awards and grants from the Deutscher Akademischer Austauschdienst, The Newington-Cropsey Foundation, Woodrow Wilson Foundation and Episcopal Diocese of Maryland.
The Rev. Canon Sirota has given keynote addresses, preached and led workshops at conferences and conventions for the American Guild of Organists, The Association of Anglican Musicians, The Association of Lutheran Church Musicians, The East Carolina Arts Festival, The Hymn Society, The Monuments Conservancy and The United Church of Christ Musicians' Association, among others. Prior to her nine years as Canon Pastor and Vicar at The Cathedral Church of Saint John the Divine in New York, she was Vicar of The Church of the Holy Nativity in Baltimore. Recently retired as Rector of Saint John's Episcopal Church in Getty Square, Yonkers, NY, she is now living in Searsmont, Maine.