The AAM Gerre Hancock Internship
The Gerre Hancock Internship supports young professionals in pursuit of their craft. This opportunity offers an extraordinarily talented young church musician a mentorship by our leading musicians for 10 months in one of the Episcopal Church's great music programs.
The 2022–2023 Gerre Hancock Intern will be hosted by Grace Cathedral, San Francisco.
Paid with full benefits and housing, applicants must be within 3 years of a completed church-music-relevant college degree program. Applications are due by February 1, 2022 and should be submitted electronically to internship@anglicanmusicians.org.
Prospective Interns
Prospective Mentoring Institutions
Past Interns
Isaac Drewes — St. James Cathedral, Chicago, IL (2019–20)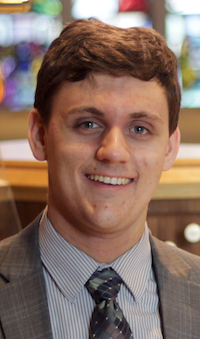 Isaac Drewes
is a masters candidate at Eastman School of Music, where he studies organ with Prof. David Higgs, and holds the George Utech Hymnody Fellowship. He is Organist and Choir Director at Penfield United Methodist Church, and sings in the Christ Church Schola Cantorum. A graduate of St. Olaf College, he completed his undergraduate studies with with Dr. Catherine Rodland, and held the position of Organ Scholar at St. Louis, King of France Catholic Church in St. Paul, MN.
Isaac's performances have been heard around United States and Canada, including at St. Joseph's Oratory in Montréal, Old West Church in Boston, and St. Mark's Cathedral in Seattle. He earned first prize in the 2018 Lynnwood Farnam Competition, and was a semi-finalist in the 2018 National Young Artists Competition in Organ Performance. In 2016 and 2017, he performed for Organ Historical Society conventions held in Philadelphia and the Twin Cities respectively. He is also the winner of the 2016 Twin Cities AGO Student Competition, and a recipient of the Pogorzelski-Yankee and Paul Manz Scholarships. When not at the organ bench, Isaac enjoys bicycling and hiking in the mountains of the Pacific Northwest.
David Heinze — St. Mark's Church, Philadelphia, PA (2018–2019)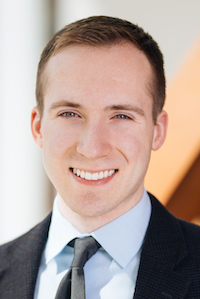 David Heinze
earned a Master of Music degree from the University of Cambridge where he was Graduate Organ Scholar at Selwyn College under Sarah MacDonald as well as Organist for St. John's Voices at St. John's College. A native of Grand Rapids, Michigan, he is an alumnus of Interlochen Arts Academy and Hope College and has studied with Thomas Bara, Huw Lewis, Margaret Phillips, and Jeremy Tarrant. David won First Prize and Audience Prize in the L. Cameron Johnson Young Organists Competition and First Prize in the Annamae Rotman Organ Competition. During his time at Hope, he served as Organ Scholar at Trinity United Methodist Church in Grand Rapids and then as Edwards Organ Scholar at St. John's Episcopal Church in Detroit. As a recitalist and accompanist, he has performed throughout the US, UK and Europe, and holds the Associate Diploma of the Royal College of Organists. In January 2022, David won First Prize in The National Competition for Organ Accompaniment, co-sponsored by Schoenstein & Co. Organ Builders and the American Guild of Organists, Washington, D.C. Chapter, and held at St. Paul's, K Street in Washington, D.C.
Thomas Heidenreich — Trinity Episcopal Cathedral, Columbia, SC (2017-2018)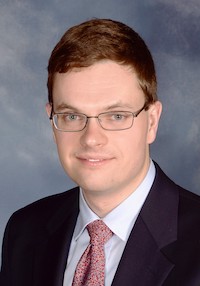 Thomas Heidenreich
serves as the Organist in Residence at Nashotah House Theological Seminary and as the Canon Musician at St. Paul's Episcopal Cathedral in Fond du Lac. At Nashotah House, Thomas plays for eight weekly chapel services. At St. Paul's he is the organist for Sunday services as well as the director of the choir. In addition, he is a Doctor of Musical Arts candidate at the University of Cincinnati's College-Conservatory of Music where he studies with Dr. Michael Unger (degree anticipated May 2022). In March, he was recognized as one of The Diapason's 2021 class of "20 under 30" recognizing young organists.
Thomas was the 2017-2018 Association of Anglican Musicians Gerre Hancock Organ Fellow at Trinity Cathedral in Columbia, South Carolina, where he worked with Canon Organist and Director of Music Dr. Jared Johnson and the other Cathedral staff in all aspects of music making and choir training. In recognition of his time as AAM fellow, Thomas played in a recital for the 2019 Association of Anglican Musicians national conference in Boston at the Harvard Memorial Chapel.
Previously, he studied with Alan Morrison at Westminster Choir College in Princeton, New Jersey, where he completed his Master of Music in Organ Performance, with distinction, August 2017 and his Bachelor's, summa cum laude, also in Organ Performance, August 2016. He was the 2016 winner of the Joan Lippincott Competition for Excellence in Organ Performance at Westminster Choir College. While in Princeton, Thomas served as organ scholar at Trinity Church under Director of Music Tom Whittemore and, for three years, as Co-Director of Music for The Episcopal Church at Princeton, a student ministry of Princeton University.
George Fergus — Washington National Cathedral, Washington, D.C. (2016-2017)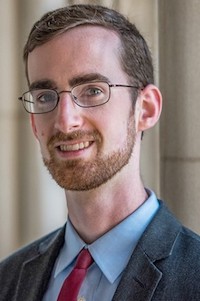 George Fergus
serves as the Associate Director of Music and Chorister Program Director at Washington National Cathedral. He maintains an active schedule of rehearsals and services in the cathedral's music program, as well as appearing on the cathedral's online stream of worship services and recitals, including the annual Christmas Day, Easter Day, and Independence Day concerts. He accompanied the Cathedral Choirs on domestic and international concert tours, and has appeared on concerts with Washington Choral Arts Society, Washington Bach Consort, and the American University Chorus. During his tenure at the National Cathedral, he has played for the memorial services of several notable public figures, including Liu Xiaobo and President George H. W. Bush. His performances have been featured on Pipedreams from Minnesota Public Radio and NPR's 1A.
George earned the Master of Music degree in organ performance and Certificate in Church Music Studies from the Yale Institute of Sacred Music, and a Bachelor of Music degree from St. Olaf College. Upon graduation from Yale in 2016, George was awarded the Gerre Hancock Fellowship in Church Music by the Association of Anglican Musicians, which he served at Washington National Cathedral before being appointed to the full-time music staff there. Prior to his appointment in Washington, he served as Organ Scholar at Grace Church in New York, and Choirmaster and Organist of Berkeley Divinity School at Yale.
Adam Detzner — Trinity Church Boston, MA (2014-2015)
Adam Detzner
is an organist and church musician based in the Washington, DC area. He was recently appointed Minister of Music and Organist at St. Alban's Episcopal Church in Annandale, Virginia. He has a special interest in the keyboard music of Johann Sebastian Bach and his contemporaries and predecessors. He is a graduate of Stanford University and the Eastman School of Music: his major organ teachers were Robert Huw Morgan and David Higgs, and he studied harpsichord with Elaine Thornburgh. Between college and graduate school Adam was the inaugural recipient of the Association of Anglican Musicians Gerre Hancock Internship, working as Organ Scholar at Trinity Church, Copley Square, in Boston. Adam has performed at national conventions of the American Guild of Organists (AGO), the National Pastoral Musicians Association (NPM), and the Association of Anglican Musicians (AAM). In the summer of 2022, he will travel to the Netherlands to compete in the International Schnitger Organ Competition in Alkmaar as the only American admitted this cycle. Adam is a member of AAM and the AGO, and has worked as a faculty member at four AGO Pipe Organ Encounters. Adam lives in Silver Spring, Maryland, not far from where he grew up. In his spare time he enjoys browsing local record stores for vintage vinyl, lifting weights, and solving crossword puzzles—his average solving time for the New York Times Saturday puzzle is 13:00.